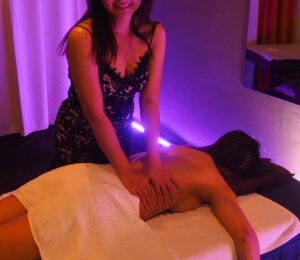 Important Message to Customers
Restrictions are lifted and Sydney life is returning to normal. Workers are slowly returning to the city, cafes are getting a bit busier and unemployment is at record lows. That probably means it is time to resume your regular relaxation therapy, or come and try one if stress-relief massage has not been part of your health regime. We have gorgeous, well-trained ladies ready all day until 10pm to soothe those tired and stiff muscles.
If you have questions, please call Summer on 0450 865 833.
Summerville Massage
Summerville Masseuse Roster
Now Fully Operational with a great new selection of young ladies!
First - make a choice from our daily massage roster - we have a generous selection of skilled and attentive masseuses.
Then call (02) 7901 3184 or 0450 865 833 or make an online booking by noting the name of the girl available on the day you want, then clicking here for an appointment with her.
Whether you like Chinese, Thai, Taiwanese, or Malaysian girls, we have the best selection in Pyrmont, if not the whole Sydney CBD. Come experience our exciting new location at 200 Harris Street, just across the road from our former location.
Massage Roster
Our massage roster changes regularly with exciting, skilled and shapely new girls to complement your favourites, bookmark this page so you can be always be up to date. We hire on massage skills first - so you won't be let down at Summerville!